They didi'nt do an ultrasound at the doctor, but he did have this little machine (sonogram?)that he used on my belly, and I could hear the heartbeat! It was great. The doctor wasen't sure exactly how far along I am, but he said 15-16 weeks. I was really hoping that he'd give me a due date though. I have an ultrasound appointment on November 24th at 2pm, and we should be able to find out the sex! Maybe then I will find out a due date, but we are guessing around April 20th.
Here is my bigfoot that I've been working on, although I think the torso is to log...and it looks like he's just sitting down...when those are actually his big feet! I think I might make a smaller version and just offer the pattern with both sizes in it.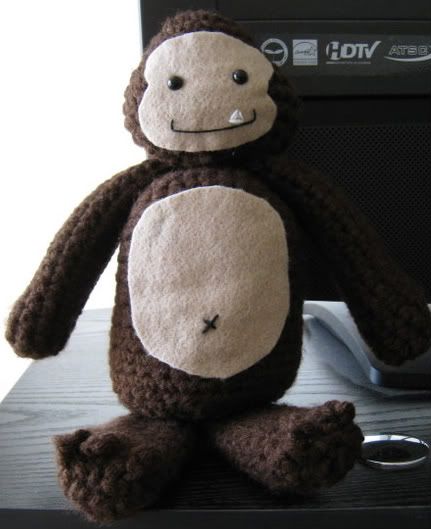 I also joined a Christmas ornament swap on Craftster, which I'm done with already. I got my new camera yesterday so I took some pictures, and I'll post them once my swap partner receives the package :D
On Monday November 3rd, I had my first doctor appointment! All they did was do a pap, breast exam and take my weight and stuff. Uhh I've gained like 20 lbs since 2004....but I'm thinking 10 have already been from the baby. It's not that I'm eating bad, but I'm a lot more sedentary now that I'm not working heh. I've been thinking about getting a prenatal yoga dvd or something, I'm kind of worried about doing a regular one because I know there are certain things you aren't supposed to do.