They didi'nt do an ultrasound at the doctor, but he did have this little machine (sonogram?)that he used on my belly, and I could hear the heartbeat! It was great. The doctor wasen't sure exactly how far along I am, but he said 15-16 weeks. I was really hoping that he'd give me a due date though. I have an ultrasound appointment on November 24th at 2pm, and we should be able to find out the sex! Maybe then I will find out a due date, but we are guessing around April 20th.
Here is my bigfoot that I've been working on, although I think the torso is to log...and it looks like he's just sitting down...when those are actually his big feet! I think I might make a smaller version and just offer the pattern with both sizes in it.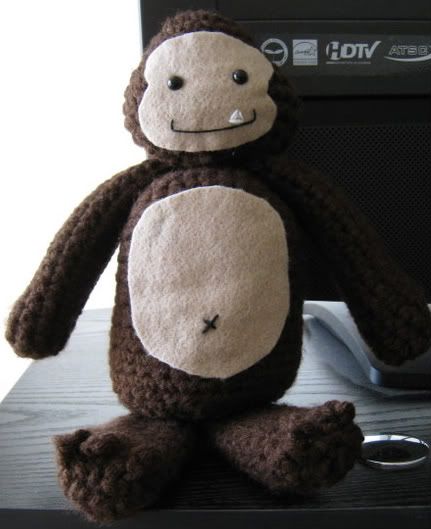 I also joined a Christmas ornament swap on Craftster, which I'm done with already. I got my new camera yesterday so I took some pictures, and I'll post them once my swap partner receives the package :D
On Monday November 3rd, I had my first doctor appointment! All they did was do a pap, breast exam and take my weight and stuff. Uhh I've gained like 20 lbs since 2004....but I'm thinking 10 have already been from the baby. It's not that I'm eating bad, but I'm a lot more sedentary now that I'm not working heh. I've been thinking about getting a prenatal yoga dvd or something, I'm kind of worried about doing a regular one because I know there are certain things you aren't supposed to do.
knows now, I'm pregnant! We aren't quite sure how far along I am, we are thinking
about 16 weeks now. I'm feeling pretty good, most of the nausea has passed (woot at
not ever throwing up), even though I still sometimes feel it a bit at night. The oddest
symptom I've been having now is heartburn at night, and I've NEVER had it before.
I quit my job about 3 weeks after I found out, being around all those chemicals at work
worried me. I couldn't touch half the facial products (you need to stay away from vitamin A derivatives and some doctors say to also stay away from salicylic acids), and they would always have me rinse out hair color because I had no clients heh. Everyone was super nice there, but their skin department was sloooooow. They had 1 other esthetician who worked Thursday-Saturday, and even she only had a few clients per day. The hair department was fully booked weeks in advanced, so they were a busy salon at least.
I've been working on designing some crochet patterns, and I have 3 now that are totally
finished. I might make another version of each one, just for variety in pictures.
Unfortunately, our camera died on the 2nd day of Blizzcon :(. It was like 3-4 years old,
and well loved so it served it's purpose. I'm looking to get one that can take better
close-up pictures anyway. I put the Blizzcon pictures on
Flickr
if anyone is interested,
they honestly aren't that exciting.
Blizzcon (Oct 10-13) was a lot of fun though, they had a bunch of developer panels
(Q&A, class design etc), about 3k computers to test out the new games, shopping, food, tournaments (pvp and trading card game), costume contests, wow joke contest, wow dancing contest, Patton Oswald did an hours worth of standup, photo boths....just a bunch of stuff that was a lot of fun.
Saturday night we went to dinner at Gorden Beirsh with Dario, Sida and Richard. It was nice and relaxing, we didin't go to a bar because I coulden't drink, and Sida was tired from working all day. I still would of gone to a bar anyway, but dinner was nicer because we could actually talk to each other.
Sunday we went down to Craig's aunt and uncles house in Palos Verdes, and we went sight
seeing, had dinner with his grandparents, and took a late night drive for yogurt and more
sight seeing. Monday morning we came home and were exhausted, but it was worth it.
We don't have any plans for Halloween yet, but we were invited to Halloween party at Craig's friends house on Friday. It could be fun, we might go. Aunt Sherry wants me to go to her house on Halloween which would also be fun, but it's at least a 2 hour drive now :(
I signed up for a Christmas ornament swap on craftster, and I have some ideas already...
but I need to go to Michaels later!
I was waiting until I went to the doctor on November 3rd to update, but as everyone
Tonight for dinner I'm making
Coconut Mango Chicken with Black Beans
! It sounds super yummy, and looks pretty easy. I've spent way to much money on food lately, but we didint have ANY...not even basic (like vegetable oil) stuff. I also made
Pesto Tuna Salad
the other day, which was amaaaaazing. Even Craig loved it and he's not a fan of pesto.
I start my new job on the 17th, and I think I'm going to like it MUCH better then Threads. I also am only working four days a week, Sunday through Wednesday. I *think* I get $9 an hour and 40% commission! At Tova's I was only making 35% commission.
That's all for now, I'm hungry :)
Ahhh I love our new apartment! As soon as we get some little nails to hand things up (so we will be fully unpacked), I'll post pictures. I've been swimming almost every day since we've been here, and I have been laying out in the sun. I know that is a mortal sin, especially being an esthetician....but I've never really spent much time in the sun anyway, so a little sunbathing right now wont hurt so hush. ;)
Current Mood:

hungry
I have an interview tomorrow at a different spa in Dublin, the spa that I was at made me very unhappy. I hated everything about it....I would even cry coming home from work sometimes, and I'm not a crier so I had to get out of there. I talked with Craig and we decided that I could quit since he's making enough money until I found something else. So I have that interview tomorrow at 3:30, and then I'm going to drop my application off at another awesome spa that is hiring in Pleasanton. That would be even better! I've already emailed the hiring manager, and he just went on vacation until the 28th, but he said he'd love to talk to me when he gets back.
I crochet this beer bottle and lime the other day, it turned out waaaay bigger then I wanted it to, and the color changes for the label are a little to obvious, so I'm going to take some white paint to touch it up and even it out.
I just got a call from our apartments saying we could move in on the 25th instead of August 8th!!!!!!! Woooooooooohoooooooooo! I'm excited :) I've already called to get PG&E, cable, and internet set up....but we still need a dresser. I'm about to head over to Bed Bath and Beyond to get a TV stand and a duvet cover if I find one that I like.
Current Mood:

full
Avon Baroque
Ew lol, this is not flattering to my cool toned skin. It's really pretty in the bottle a soft copper with gold shimmer...it would looks very pretty on warm skin. It applies nice and doesn't streak, which makes it a winner in my book.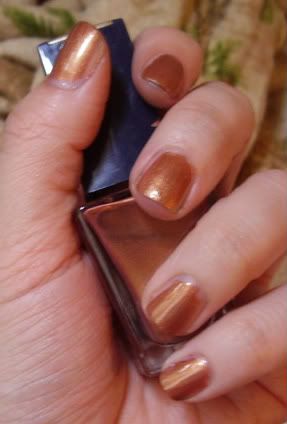 Sally Hansen xtreme Nails in Fashionista Orange:
I love this color, it reminds me of orange soda. I was afraid to try it because I didin't want "construction worker" orange on my nails...but this color is just juicy! It applied nice and smooth and I only needed 2 coats.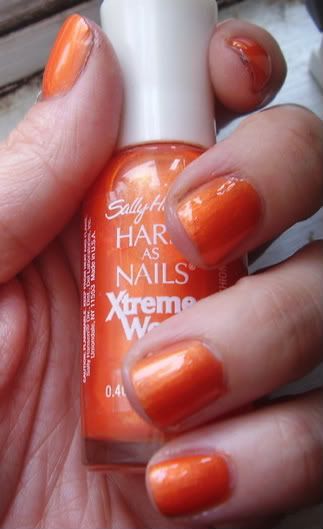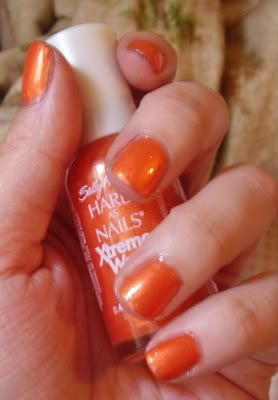 Rimmel Lasting Finish Polish in Russet Flame:
This is one of my all time favorites, and I've actually used up half the bottle (that's a lot for me lol). I dont really wear reds much...but this is THE perfect red! It's a brick red with a fine gold shimmer...it even works on my cool toned skin. These pictures dont even do it justice, whenever I can get some new pictures I'll post them. I think it might be discontinued? I hope not :(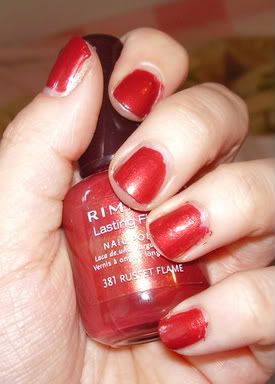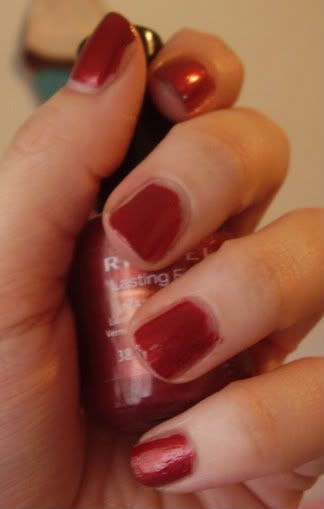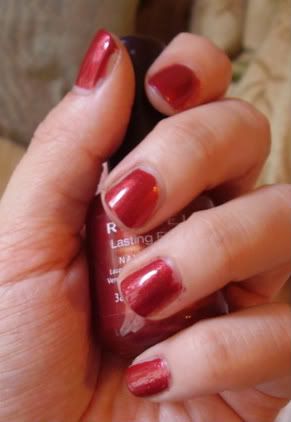 Milani Blue for My Baby
I dont think I've ever actually used this for a mani, but I really really like it now that I've tried it! It's a light sky blue metallic, with super super small silver shimmers running through it. It also applied flawlessly, and had a gorgeous finish!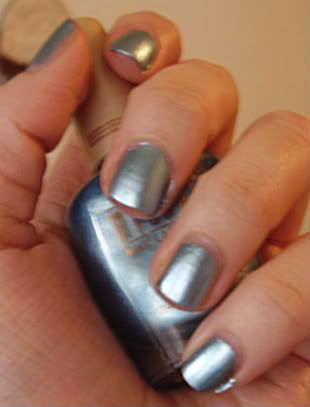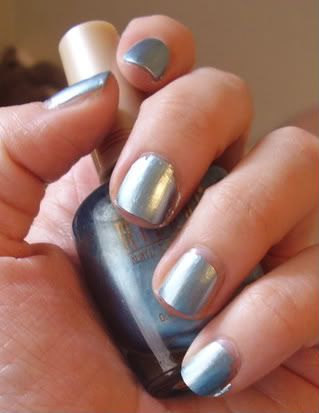 Here are just a few polish reviews....
I went to GoodWill the other day to look for dressers, but they were freaking expensive....almost $100 at GoodWill?! Instead, I got all these shirts for $10 yay. They were all from Target except for the red which was from Banana Republic, and they even still had their original tags on.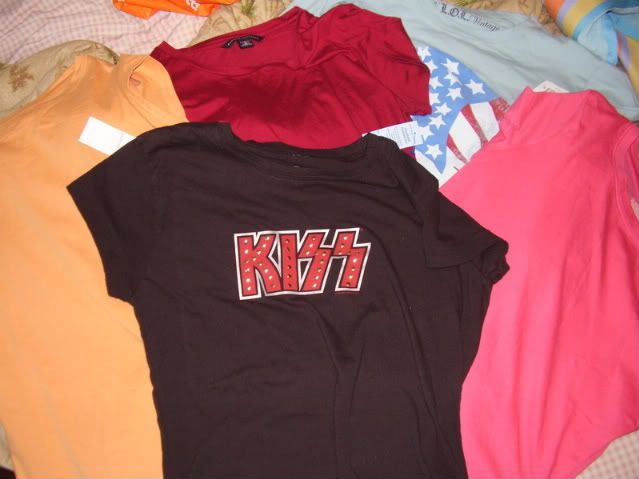 There was also a promotion about a month ago from Urban Decay of if you spent $35 you got a free pack of Urban Decay polishes. So, of course I had to :). I bought an eyeshadow palette which was good since I've always wanted to try out their eyeshadows, and it came with an eyeshadow primer potion sample, which is pretty good. I've only tried one polish right now, Asphyxia, which you see in the picture. It's a VERY cool toned silvery lilac, with super fine blue, silver and magenta shimmer throughout. It applied super thin, but as you can see it bubbled on a few nails, which I think is actually because my Seche Vite thickened up quite a bit. Don't mind the chips, this was taken after a few facials and waxings. I really like this color, but it does look kind of freaky in the bottle :)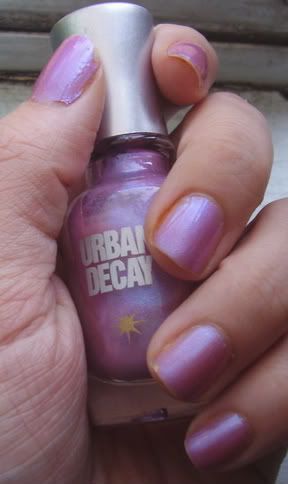 Ahh I don't really like this new place that I'm working at. I applied at like 10 more places today, so I will call them on Friday to check on everything.
Current Mood:

melancholy

Current Music:

G4 at E3
I've been looking at stuff for my apartment, but we dont have much money to spend. Here is our couch which we got off Craigslist for $40, it's a mossy green L-shape but it's stacked on top of each other here.
I think this rug would look perfect in the living room, either in front of or behind the couch.
I'm not sure what we can or cannot do with the walls, but these bird wall decals would look pretty cool in the living room too.
We dont have curtains picked out yet, but I like these tree brach curtain holders.
This picture window might be kind of cool, because I dont think we will have much counter space to put pictures!
These branch holders would be cool in the bedroom for my necklaces, or by the door to hang up any jackets. In the summer. :P
I just thought these pictures from Urban Outfitters would be pretty cute too :D
I already bought some towels for the bathroom in turquoise, white and a sandy tan color, along with a shower curtain that is a beach scene. I didin't mean to go so "theme-ish" in the bathroom, but I just loooved that shower curtain.
Here is a few more polish pictures...
OPI Chicago Champagne Toast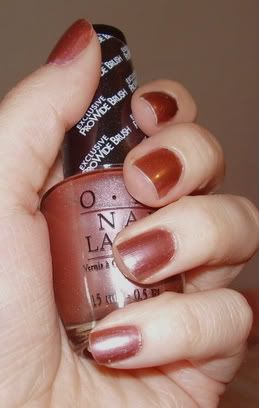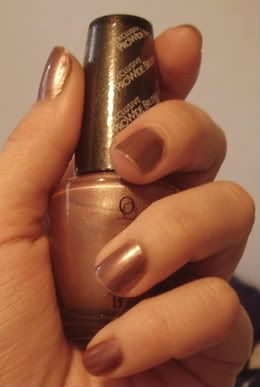 OPI Yoga-ta Get This Blue! With NYC Scandelous Blue Glitter Top Coat.
Whew it's hot out today, and it's only 11:15! I had an interview yesterday at a spa in downtown Pleasanton, which I'm not quite sure how it went. It seemed like it was going great, but before I left she said she has a few more interviews to do, but she'd let me know either way. Doh. I really wanted that job. Ah well, at least I still have that spa in Dublin.
Current Mood:

hot
I went to Ulta the other day, and scored some
awesome
deals. I got each of these polishes for $2.99 each:
- My first ever Essie! In Funships...I LOVE the color, and I coulden't believe that I only really needed 1 coat! I don't think I have any other polish where I only needed 1 coat.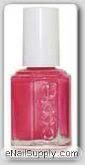 - China Glaze Light My Tiki. Gorgeous! Longer lasting then my OPI's have been, through doing numerous facials.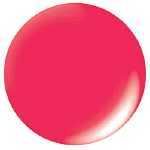 - China Glaze Summer Rain. I haven't tried this one yet, but I'm thinking of doing it tonight.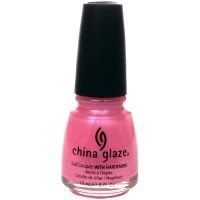 - My first ever Piggie Polish, in Well Red. I normally dont wear to many reds, but this is a PERFECT cherry popcicle red!
L'Oreal lip products were buy 1 get 1 free, so I got 2 Infallible Never Fail Lipglosses in Bloom and Blush. So far I'm pretty impressed, I still saw some color 2 hours later and that was through lunch! Although they are a bit sparkly, I wish they had more of a jelly like finish.
I also picked up Freeman Pineapple Enyzme Mask...it was only like $3.50, and it has Glycolic and AHA's. I was really impressed by the ingredient list. I've used it once, and it really left my face looking bright and smooth, although you definitely need a moisturizer afterwords!
Craig and I have been looking at apartments lately, and we think we will just end up in Livermore, which is cool. Plus I have an interview in Dublin on Tuesday :)
I created an amigurumi rum bottle! I embroidered "rum" on the tag, just in case it's not legible heh.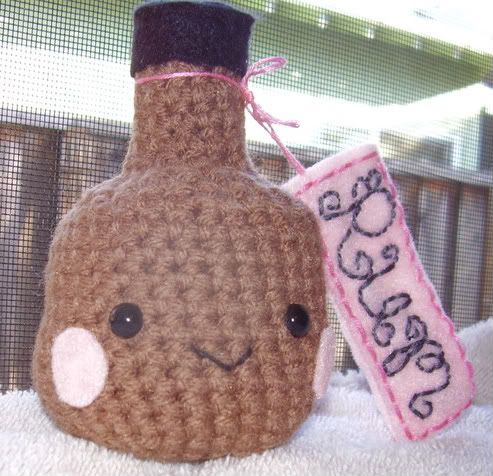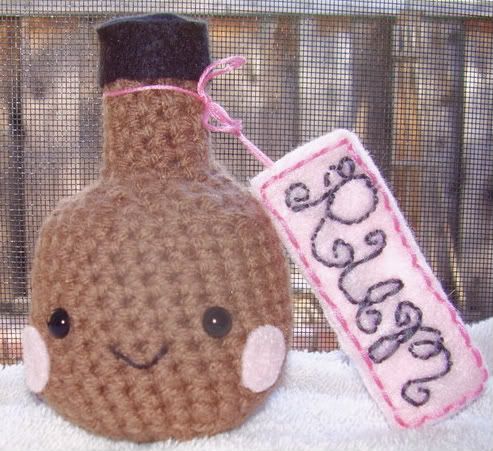 Whoooooooeeee it's hot today, Yahoo says it's 101. Yeesh poor Craig, he has to wear heavy long sleeves, pants, a mask etc while working outside. Ouch. I had some new nailpolish pics I was going to post, but I think my camera is dead....or all the batteries that I could find are dead. I think the batteries are most likely the case.
Current Mood:

hot
I bought the book
Amigurumi World: Seriously Cute Crochet
the other day, it's by the same girl who designed the patterns for the jellyfish and cactus in previous posts.
My first project was the mommy from "Mommy and Baby Owl", and it was a lot bigger then I thought! I started it yesterday, and finished it today...it was super quick and easy, and very cute :) I used charcoal gray for the top and the wings, medium gray for the body, and neon green for the eyes and the "feathers"....but it looks kind of washed out from the flash.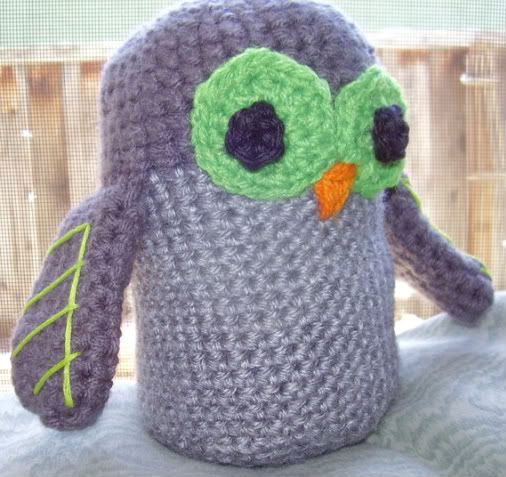 Wooooohoooo! My new PC came today! Don't ask me specs about it, I have no idea....Craig bought it for me lol. I'm super excited, and he's going to set it up when he gets home from work. I stayed home from work today, I've been sick for almost a week now. I used to *never* get sick, but since I've been working as an esthetician, I've been sick probably 4 times now...sheesh.
Current Mood:

sick